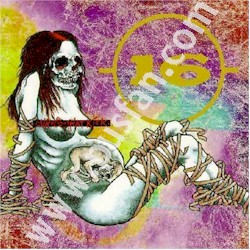 Song Titles:(10" Release)

Side 1. Curves That Kick, Chum, Resin,Sedatives, Grandpa's Chair

Side 2. Nova, Amish, Mr. Mouse, Joe the Cat, Hate



Release Date: 1993

Format:10"/CD
Go to 16 Variations to view Alternate Sleeves

Catalog #: Sour 6-V/Sour 6-D

Notes: The promo version of the CD release has a foil 16 (red, silver, or rainbow) stamp on the cover. The CD included a bonus song Doorprize which was rerecorded for this release. Also, a test pressing version w/ special sleeves was created.