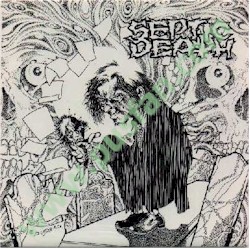 Song Titles:

Side 1. Insanity, Disenfect, Forest of the Megalomaniac

Side 2. Burial, Glue/Step(New Year's Eve Mix)



Release Date: 1987

Format: 7" EP

Catalog #: Pusmort 007-01

Notes: Glue/Step is a mix of cover songs by SSD & Minor Threat.
The records was sold only in Japan, with approximately 300 being made
available through mailorder in the US. Nariki Shimooka translated the lyrics.
Backing vocals have been credited to James Hetfield,Andy Anderson, and Rick Rotsaert.