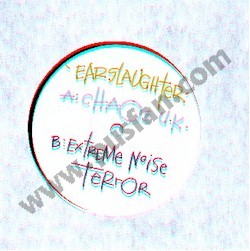 Song Titles:
Chaos U.K.

Side 1. Month of Sundays, Red Sky At Night, Used & Abused, Political Dreaming, Skate Song, Back To School, Depression, Hope You Got A Fuckin' Headache
Extreme Noise Terror

Side 2. System Shit, No Threat, Human Error, Murder, False Profit, Show Us You Care, You Really Make Me Sick, Fucked Up System, Dead Life, Only In It For THe Music



Release Date: Never Released

Format: 12" LP

Catalog #: Pusmort 0012-16

Notes:Test Pressing of this release only exist.