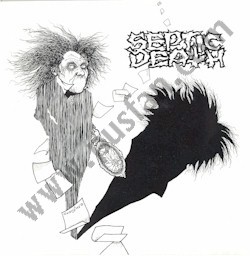 Song Titles:

Side 1. Kichigai, Demon

Side 2. The Evolution Garden, Kharma Khamatic, Unprotected Games



Release Date: 1988

Format: 7" EP

Catalog #: Pusmort 007-03

Inserts:

Mailorder Version: Glossy 7x7 insert w/ cover art & Hand of Fear Stamp
lyric sheet

Regular Version: Lyric sheet

Notes: Andy Anderson of Attitude and Kirk Hammett of Metallica
appeared on this release. The very first copies of the record
came w/ a 8 1/2"x11" xerox of the lyrics. This was due to
the fact that the glossy lyric sheet (7"x 13 1/2") wasn't ready.
Some copies came w/ various sticker inserts.