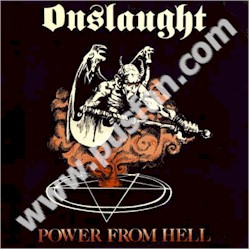 Song Titles:

Side 1. Damnation, Onslaught(Power From Hell), Thermonuclear Devastation, Skullcrusher.1, Lord of Evil, Death Metal

Side 2. Angels of Death, The Devil's Legion, Steel Meets Steel, Skullcrusher.2, Witch Hunt, Mighty Empress



Release Date: 1985

Format: 12" LP

Pressing Variations:


Dark Purple & Orange Sleeve, Green vinyl

Dark Purple & Orange Sleeve, Black vinyl



Catalog #: Pusmort 0012-05

Notes: The front cover was drawn by Steve Woolley.
This record was originally released in 1985 in the UK on "Children of Revolution" Records.