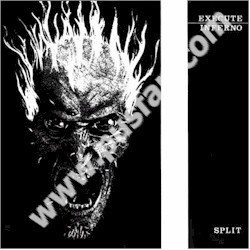 Song Titles:
Inferno "The Silence Before the Storm"
Side 1. A Nightmare, Life, In Research Work's Name,Creature Without A Brain
Execute "Blunt Sleazy:
Side 2. Nasty Nasty Nasty, Going Back, Penetration(Go to Rut), Lone Wolf (Pt. 2)



Release Date: 1986

Format: 12" LP

Catalog #: Pusmort 0012-06

Notes: The front cover was drawn by Squeel.
A poster of the front cover was also included in some releases.